AIR SUPPLY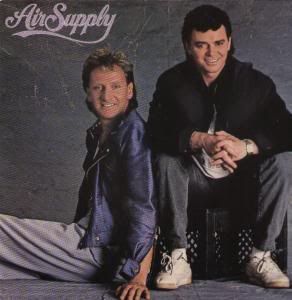 Air Supply
are a soft rock duo who had a succession of hits worldwide through the late 1970s and early 1980s. It consists of British guitarist and vocalist Graham Russell (born Graham Cyril Russell, 11 June 1950, Sherwood, Nottingham, England,
UK
) and Australian lead vocalist Russell Hitchcock (born Russell Charles Hitchcock, 15 June 1949, Melbourne, Victoria, Australia).
Their 1980 album, Lost in Love, contained three U.S. Top Five singles, including the title track (a U.S. #3), plus "Every Woman in the World" (#5) and "All Out of Love" (#2) (sample). The album sold two million copies in the U.S. The following year they released The One That You Love, and the title song was released as a single and went number #1 on the Billboard Hot 100. It also featured two other Top 10 hits, "Here I Am (Just When I Thought I Was Over You)" and "Sweet Dreams". A fourth single "I'll Never Get Enough", co-written by Jeanne Napoli, Gary Portnoy and Judy Quay, was released in Japan and achieved Top 10 status. Their third album, in 1982, Now And Forever, continued the group's popularity with the Top 10 hit, "Even the Nights Are Better" and two top 40 singles "Young Love" and "Two Less Lonely People In The World". In 1983, they released their "Greatest Hits" album with a new single called "Making Love out of Nothing at All" written by Jim Steinman. The song was one of their biggest hits ever spending three weeks at number 2, and the album eventually sold 5 million copies.
In 1984, their song "I Can Wait Forever" was included (although barely audible) in a scene in the blockbuster movie Ghostbusters, and was included on the soundtrack album.
Air Supply released their first live video,
Air Supply Live in Hawaii
. In 1985, they had one semi-major Billboard hit with "
Just As I Am
" and a couple of minor hits. Russell and Hitchcock recorded a 1987 Christmas album before taking a break from studio recordings. During this time, Russell Hitchcock released his self-titled album in 1988 which was not a big seller. However, he did have the single "
Swear To Your Heart
" in 1990 from the movie soundtrack for
Arachnophobia
which received significant airplay
here one of their signature song
MAKING LOVE OUT OF NOTHING AT ALL



See more of the Air Supply here in this blog soon